SoftBank Air vs Hikari / SoftBank Hikari Speed English Review
softbank air review
1. The Difference between SoftBank Air and SoftBank Hikari ( softbank air review )
The biggest difference between SB Hikari and SB Air is that the same wireless LAN (Wi-Fi) is an optical line and 4G LTE. Optical lines provide stable speed, and 4G LTE lines have high responsiveness. SB Air excels in terms of handiness. Here, we will introduce the differences between the two services.
As SB Air arrives and can be used immediately, there is no construction require. Depending on the contract, And SB Hikari may or may not require construction.
If there is no construction, the wireless router will be deliver by mail, so set it by yourself while referring to the manufacturer's instructions and homepage. And the wireless router is also set by yourself.
3. The Difference between SoftBank Air and SoftBank Hikari ( softbank air review )
※2 FLET'S Hikari is the name of NTT's optical line service.
4. Communication Speed ( softbank air review )
The speeds of SB Hikari and SB Air are quite different. SB Air is a best effort type and does not guarantee communication speed.
5. Fee system ( softbank air review )
Compare the prices of SB Hikari and SB Air.
In addition to the monthly charge for SB Air, the air terminal cost of the main unit (59,400 yen / 1,650 yen x 36 months) is charge. In the case of Hikari ( 光 ), if there is a face to face construction, it will be charge a total of 24,000 yen. There is no need to purchase a terminal like SB Air.
I would like to think about whether to select SB Hikari or SB Air. Each has its advantages and disadvantages, so I think it's best to choose the one that suits you best.
6.1 Select SoftBank Hikari
SoftBank Hikari has a fast and stable line speed, so it is suitable for people who frequently download large capacity movies, apps, and games. Construction work is required for new people who will open the line, but changing from Collaboration Hikari or FLET'S Hikari will only require the installation of equipment, so there will be no hassle. You can select the budget and functions of various wireless routers from various manufacturers, so you can create an internet environment that suits your needs.
6.2 Select SoftBank Air ( softbank air review )
Since SB Air is a 4G LTE line, it is very fast in places with good line conditions. The experience speed is similar to that of a carrier's smartphone, so it may feel as fast as or faster than an optical line. And, SB Air is not stable, so it is not suitable for slowing down at night or downloading large amounts (depending on your area). Instead, SB Air has the convenience of being used as soon as it arrivessoftbank air english, without the need for construction or complicate settings. If you are moving and do not have the time to connect the optical line and want to connect to the Internet immediately, we recommend SB Air.
7. Summary ( softbank air review )
So far, I have compare SB Hikari and SB Air. Basically, both provide services by borrowing NTT's optical line / 4G LTE service, so the reality is that the communication area and quality do not change so much.
The NTT lends lines to other carriers in this way comes from the work of the Ministry of Internal Affairs and Communications to promote fair competition. The Ministry of Internal Affairs and Communications has propose a charge discount for mobile carriers, each company has announce its original price experience, and the entry of a new telecommunications carrier called Rakuten Mobile has begun.
In this way, we anticipate that the telecommunications industry in the future will undergo great competition, including 5G lines. As a user who actually uses the line, I think that it will be difficult to choose, but first of all, I basically want to secure stable communication and minimum speed (downstream 25 Mbps to 30 Mbps).
However, SB Hikari ( 光 ) is not such a low number and should easily exceed 100Mbps, so it seems that you are using the latest equipment. In addition, when using SB Hikari ( 光 ) and SB Air, using a newer computer will greatly improve comfort, so even if the line is a little slow, it may be manageable. Regional factors are the biggest reason why both lines do not always achieve the desired speed.
7.1 Advantages and disadvantages of SoftBank Air and Hikari ( softbank air review )
If you are away from the base station, the minimum speed will come out because you are using a physical optical fiber for the optical line, but in the case of SB Air using wireless communication, it is inevitable depending on the location. It may become stable. Therefore, first of all, it is necessary to take measures such as returning it if it is useless during the trial period or making a rental contract and using it for a while. Although SB Air has the advantage that it can be easily purchase and install, it is also necessary to know that there are such disadvantages.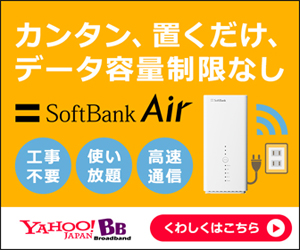 Perhaps, in the future, we expect that 5G lines will become popular, and products such as SB Air that use 5G lines will definitely come out.
Then, due to the nature of 5G radio waves, this time it will target a narrower range than 4G LTE, so it is necessary to pay particular attention to the location of the house.
At present, 5G is limited to major stadiums and facilities, but since Japan has the highest national coverage of 4G LTE in the world, it is expected that the 5G network will steadily spread throughout the country in the future.
Reference URL: